Accelerates development of depleted soils/substrates for vegetation establishment.
An Engineered Soil Media™ (ESM™) is a growing media designed to help soils reach their fullest potential for vegetative establishment and more effective, long-term erosion control.
Soils and substrates associated with denuded sites from construction, mining, energy development and other land disturbing activities are inherently lacking in organic matter, nutrients and biological activity essential to sustainable vegetative establishment. Ideally these sites would be covered with several inches (centimeters) of rich fertile topsoil to help develop a reasonable growing medium. However, there is simply not enough suitable or reasonably priced topsoil to ameliorate inhospitable conditions on every site.
Hydroflex-EU use ProGanics™ Biotic Soil Media™ (BSM™) which has been designed as a topsoil alternative that accelerates the development of depleted soils/substrates with low organic matter, low nutrient levels and limited biological activity. ProGanics is not a direct replacement for expensive topsoil, but provides an abundant source of organic matter and soil building components to quickly modify soil chemistry, initiate growth establishment and buildup of the uppermost "O" and "A" soil horizons.
Unlike peat harvested from fragile wetlands, all components of the ProGanics Biotic Soil Media blend are naturally derived and renewable, and engineered to optimize moisture retention, growth and establishment of vegetation.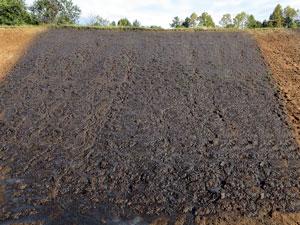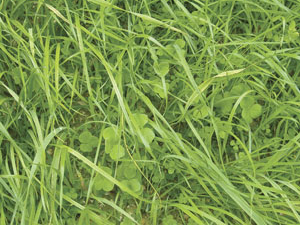 Game Changing Advantages
Many construction sites have depleted soils with low organic matter that require more than just fertilizer and other amendments to establish sustainable vegetation. Placing costly imported topsoil over depleted soils has historically been the preferred option to establish vegetation. Using ProGanics Biotic Soil Media in place of topsoil on challenging and difficult‑to‑access sites will not only save money and time, but will also provide a growing medium that helps establish vegetation.

Mild Terrain


On flat to gentle terrain where erosion potential is lower, ProGanics can be applied with seed, fertilizer and soil amendments covered with a basic Profile® hydraulic mulch or erosion control blankets as recommended from your PS3 soil test and design analysis.
Challenging Sites


For steeper slopes or where erosion potential is greater, an application of ProMatrix™ EFM™ or Flexterra® HP-FGM™ over ProGanics will provide near perfect erosion control with increased functional longevity and growth establishment.
Products
Introduced in 2015, ProGanics™ Biotic Soil Media™ (BSM™) is the most advanced ESM, accelerating development of depleted soils/substrates with low organic matter, low nutrient levels and limited biological activity. It is an ideal alternative to trucking topsoil to sites, or where site access is very limited.
ProGanics™ Biotic Soil Media™ (BSM™) is engineered to provide a balanced formulation of soil‑building media that contributes to both rapid and sustained vegetation establishment while complementing performance of hydraulic and rolled erosion control products. Testing at the Utah Water Research Laboratory (UWRL) has shown that ProMatrix™ Engineered Fiber Matrix™ (EFM™) applied over ProGanics resulted in 99% erosion control effectiveness with greater germination and growth versus a leading Biotic Soil Amendment applied and tested under the same conditions.
The ProGanics, non-toxic formulation has been innovated using time‑proven components from the horticultural and erosion control industries.
Key ingredients include:
Renewable Thermally Refined® Bark and Wood Fibers — to provide organic matter, high moisture retention and maximum coverage; phyto-sanitized to eliminate weed seeds and pathogens
Biochar — derived from pyrolysis of renewable wood sources (heating under high temperatures) — to create stable, porous particles that demonstrate a high Cation Exchange Capacity and a high ability to hold water and nutrients, while providing prime habitat for beneficial bacteria and fungi
Cross-Linked Polysaccharide Biopolymers — to increase water‑holding capacity, viscosity and bond strength of the media matrix
Proprietary Formulation of Fast-Acting and Sustained Release Soil Building Components Containing Seaweed Extract, Humic Acid and Endomycorrhizae — have been proven under demanding conditions in a wide variety of environments
Recommended Applications
Replacement of Costly or Difficult to Obtain Topsoil
Replacement of Compost, Peat, Manure and Other Sources of Organic Material
Development of Soils with Low Organic Matter (< 5%)
Rapid Establishment and Sustained Growth of Vegetation
Typically Installed Beneath HECPs and RECPs as Growing Media