Engineering a greener Environment
Although Hydroseeding was first introduced in the USA during the 1950's, time, machinery, products and technology within the Industry has taken this Modus Operandi for seeding to new levels. Over the course of time, Hydroflex-EU has developed its knowledge and is now a market specialist in taking this service to a higher plane.
Using the latest technology and thinking laterally, Hydroflex-EU not only researched, developed and refined the use of specialist Hydroseeding products within the Aviation Industry for high blast protection (First UK trials carried out at Gatwick Airport in 2012), but has also developed its use within the world of both erosion control and ground stabilization.
In essence Hydroflex-EU works to a simple Mantra: QUALITY WITHOUT COMPROMISE!
Nowadays, the fields of intervention where hydroseeding technology can be used are many.
They can be gathered in 4 groups that depend on the type of application and the desired results:
Hydroseeding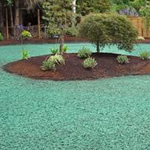 It allows a quick establishment of a vegetation cover like grass or herbs on soils with low inclination, that not necessarily need to be prepared up front, and that tend to have an agronomical value from medium till good .
Advantage: it provides an economical alternative to traditional seeding, as there is no specific need for soil/substrate preparation, and even allows seeding to be done during rainy season.
Some examples: residential lawns, greened roundabouts, green walls
Hydromulching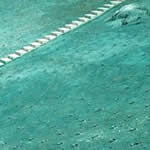 Allows the establishment of a vegetation cover together with a temporary erosion control layer on steep slopes or on soils with medium till low agronomical value.
Advantage: Allows for an immediate limitation of soil erosion and guarantees the establishment of vegetation even on sterile soils or under severe climate conditions.
Some examples: Seeding on steep or excavated slopes, in tropical climate, seeding on sandy, stony or clayey soils.
Hydrosprigging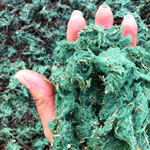 Hydrosprigging allows establishment of a vegetation cover by seeding sprigs and stolons (living plant material). This technique requires the application- at the same time- of a fibrous matrix that serves to make the mix more fluid and to 'coat' the plant material, which limits the damage to the material during the application and at the same time serves as germination and root enhancer.
Advantage: Establish a green cover more quickly than with seeding, and allows the use of species that have sterile seeds or where seeds are unavailable on the market.
Some examples: Golf, Football & Rugby fields, Green Roofs.
Hydrocovering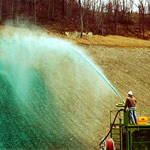 This process allows a temporary confinement of an area, through the application of a personalised, specific and proprietary complex of which the specifications and ingredients depend on the desired and needed results : control superficial erosion, dust, pests and/or volatile waste suppression, odor control, gas-like evaporation control (French COV), waterproofing against torrential rains, or against run-off.
This application does not allow for establishment of any vegetation.
Advantage: High performance and productivity ease of installation, alternative to plastic or other covers.
Some applications: Treatment of contaminated soils in 'bio-piles', material stock – stock piles, daily cover on waste management sites, confinement of areas that are being decontaminated, protection on jobsites.